[ad_1]
59
More info / Download
Demo
ARD is a modern and minimalist WordPress theme. ARD has a unique design for your agency or architecture studio. ARD Theme works perfectly in all mobile, tablet and desktop devices thanks to the flawlessly calculated Bootstrap 3.2 , you don't meet with slipping or image disorder on any browser.
You can do everything you dreamed of very quick and simple way; you build your website with short code of template as well as shortcodes with the excellence of Visual Composer plugin. In the case of you want to sell your products, we have integrated Woocommerce to the system. You can sell your portfolio without having to do extra expense.
You can make your website much more interesting with the Revolution Slider. Dozens of demo is at your service free for your usage.
The ARD Theme which we created by considering the rules of search engine optimization (SEO) will provide you extra benefits at the search results.
You will receive free lifetime all updates of ARD Theme which is checked regularly each month. Meanwhile, let us know the particles that you needed and we add them free way.
For getting you access easily to our support team with the purchase code , We are the member of an advanced system.
Main Features
Kenburns backgrounds
Multiscroll effect
Clean & Simple Design
Contact Form 7
Woocommerce
Ionicons Icons
Owl Carousel
Visual composer
Unlimited color options
600+ Google Webfonts Body, h1,h2,h3,h4,h5,h6
600+ Font Awesome Icons and more…
Demo data included Install demo in 5 minutes!
Video, image gallery, quote, audio, status post types
Included Contactform 7
Widgetize footer section
Multilanguage – included .po / .mo files
Works in Mobiles, Tablets, Smart phones and Desktop Browsers
Image Gallery with lightbox & Embed Video Gallery
Blog pages with comments
Shortcodes with Re-usable components
Based on Latest Bootstrap
Optimized for SEO & Usability
Embeded Google maps to show your address
W3C Valid HTML5
Latest Browser compatibility
Full Documentation & Easily Customizable
Free support*
Responsive design
Team and projects sections
Pricing tables section
Testimonials and client logos with superb jQuery carousel
70+ Social icons
W3C Valid HTML
HTML 5 and CSS 3
Multi-Browser Support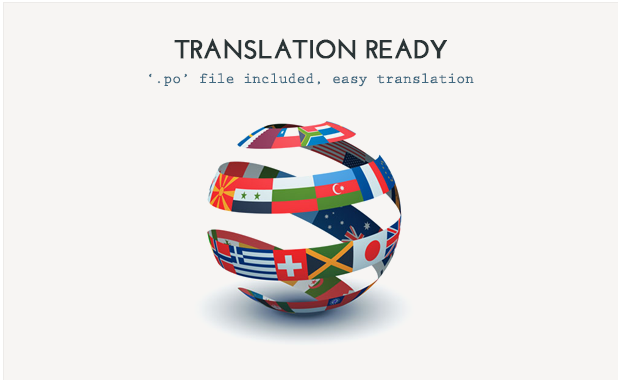 Changelog

30/09/2016 - version 2.3.1

FIXED & ADDED & UPDATED
Updated : Visual composer - TGMPA - aq_resizer plugins / files
Fixed     : Mobile scroll problem
Fixed     : Mobile blog sidebar design problem
Fixed     : Footer social icon align problem
Fixed     : Small problems

05/08/2016 - version 2.3

FIXED & ADDED & UPDATED
Updated    : Shortcode plugin 
Fixed     : Google Map API problem
Fixed     : Extra section scroll problems

11/07/2016 - version 2.2

FIXED & ADDED & UPDATED
Updated : Shortcode plugin 
Fixed     : Small Mobile / Tablet problems
Updated : CSS and JS files for mobile problems

03/07/2016 - version 2.1

FIXED & ADDED & UPDATED
Updated : Visual composer , TGMPA and shortcode plugin 
Fixed     : Small Mobile problems
Fixed     : Mobile menu scroll effect

13/05/2016 - version 2.0

FIXED & ADDED & UPDATED
Updated : Visual composer and shortcode plugin
Added : Oneclick demodata installer - please read docs
Fixed : Design section background image problem

10/02/2016 - version 1.9

FIXED & ADDED & UPDATED
Updated : Visual composer and shortcode plugin

10/02/2016 - version 1.8

FIXED & ADDED & UPDATED
Updated : Visual composer and shortcode plugin
Fixed   : Left menu active and hover color problem
Fixed   : Footer social icon and url problem
Updated : Font awesome icons - latest version
Fixed   : minor problems reported on ticksy system.

10/02/2016 - version 1.7

FIXED & ADDED & UPDATED
Added new options for footer contact column visibility
Added portfolio item button options
Added mobile menu custom home url options for mobile home problem
Fixed frontpage mobile menu problem
Added second design carousel gallery options

10/02/2016 - version 1.6 - Stabil version

FIXED & ADDED & UPDATED
Added new options for frontpage logos width/height size - resizer functions
Added full background image options in the wrapper end shortcode
Added background image control options in the wrapper end shortcode for custom sections
Fixed frontpage section order problem. You can change frontpage section order - wrapper end shortcode
You can delete/hide any section on frontpage
Added new options for frontpage section background images width/height size - resizer functions

05/02/2016 - version 1.5

FIXED & ADDED & UPDATED
Added woocommerce pages, widget areas, sidebar and more options in the theme option panel
Added new options for frontpage right carousel menu name visibility
Fixed google webfonts problem
Added extra adress lines on the footer - Theme options panel
Delete default page content featured image and edit title

02/02/2016 - version 1.4 - Stabil Version

FIXED & ADDED & UPDATED
Added frontpage logo dimension/margin options in the theme options panel.
Added different logo options in the menu left shortcode
Theme options color problems
About and other shortcode description area html tag problems ( br and p elements )

22/01/2016 - version 1.3 

FIXED & ADDED
Right image carousel shortcode changed ; Please add # character for scroll after update theme
You can add full url in the right image carousel now.
Added custom section ID feature for changed frontpage section order. You can control all sections now.
Mobile background image option added in the all shortcodes
Image logo added for frontpage
You can add any content on project item description area now.
Blog and other pages header and footer elements color options
Updated visual composer and ARD shortcodes plugins.

14/01/2016 - version 1.2

Fixed
Social share icon url problem. After update theme - shortcode plugin,  please check contact shortcode in the frontpage.
Comment form design problems
404 page design problem

*******************************

24.12.2015 - version 1.1

Fixed
Blog color problem
Theme options color problems
Added 100+ color , image , background functions in the shortcodes and theme options


[ad_2]